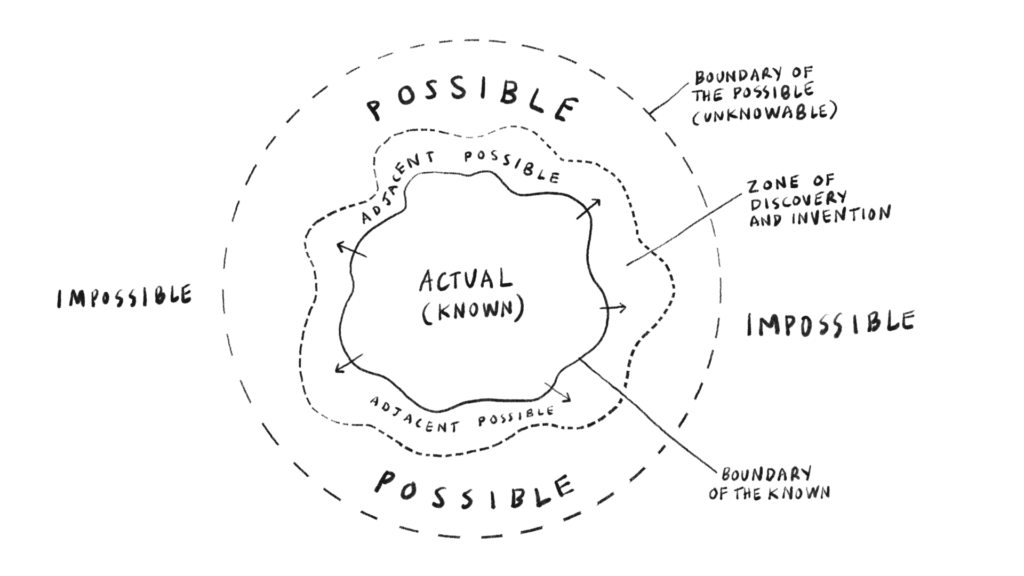 In any situation, there is always a next best step. This next best step is not always clear or obvious, but it is always within reach. There are invisible doorways around us at every moment, and each doorway is a threshold to a possible future. Possibilities must be found, invented, created, coaxed, manifested, discovered.
This is the job of the Possibilitarian.
The art of the possible is the art of finding the next best step; the art of paying attention, of noticing. It is the art of finding the thresholds and following the threads that lead to new perspectives, paradigms and opportunities. What matters most is not what we seek, but what we find.
We believe that the time is ripe for a new learning paradigm, based on live, real-time online courses, taught by artisans, practitioners, scientists and explorers, co-creating in virtually connected workshops and studios.
When Walter Gropius proclaimed the Bauhaus, he wrote:
"

There is no such thing as 'art by profession." There is no essential difference between the artist and the artisan. The artist is an exalted artisan… the foundations of proficiency are indispensable to every artist. This is the original source of creative design."

Walter Gropius, the Bauhaus Manifesto.
The promise of social media was that it would connect us. Instead, it has divided us. Trust is eroding. Facebook, Twitter, and LinkedIn are broken. They serve a purpose, but they are not the creative communities we were promised. They are ad-cluttered, promotion-and-profit-driven cattle pens, and we are the cattle!
It's time to rediscover the intimacy of the artist's workshop, the laboratory, the design studio, the love of craft and the joy of creation. A global pandemic has showed us that we no longer need a big office building to work or a college campus to learn. We now know that we can work and learn from anywhere.
We believe that learning should be grounded in practice, learning by doing, and exploring the adjacent possible with proposals, provocations, prototypes, and play.
We believe that students should be able to pick the courses they want and design their own learning journeys, instead of following an archaic, predetermined curriculum.
The School of the Possible is not an accredited institution, nor do we desire to be. There is no group that is qualified to judge or certify a school that is questioning basic assumptions and rethinking education from the ground up. We are designing a creative community, a purposeful learning network, focused on the adjacent possible.
Our purpose:
Design a better school to create a better world.
We are surrounded at every moment with invisible doorways that lead to an infinite number of possible futures. Some of the possibilities we face today are terrifying.
It has never been more important to think and act proactively, to find and choose the paths that lead to better futures.
Alan Kay once said "The best way to predict the future is to invent it." We are currently seeking the faculty who will co-create our courses, culture, and curriculum. If you're interested in being a part of the School, consider joining us for weekly office hours, or enroll in our course creation course, now enrolling for our Autumn cohort. You can also contact us for more information, or subscribe for updates.